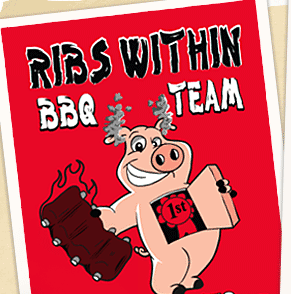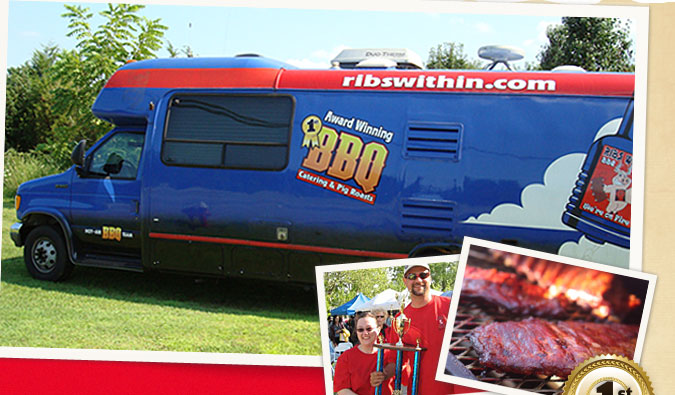 About
Ribs Within – A KCBS Sanctioned Competition Barbeque Team Since 2003
Doug Keiles, CBJ is the Pitmaster and Captain of the team. Doug is a driven competitor who loves BBQ almost as much as he loves his family (and the Mets). A seasoned griller, Doug took to smoke and charcoal like it was second nature. He creates a unique melange of flavors reminiscent of Caribbean and Asian tones with a zesty Cajun kick. His critically acclaimed work at the former R.U.B Hut, now GRUB HUT (www.grubhutbbq.com) helps Ribs Within put out their most consistent and best product. Doug has led Ribs Within to Grand Championships in both BBQ and Grilling as well as multiple Reserve Grand Champs, too. When not actually cooking, Doug spends a lot of time working on new RUBS, which you can now buy through this website (see Products). He is always on a quest for new flavors.
Wendy Horowitz A former novice at cooking BBQ, her love of cooking BBQ has brought her to Ribs Within. Wendy has worked hard at learning how to BBQ, and her role on the team is expanding, as she has taken over as assistant Pitmaster for Jonathan Knopf, who recently moved. Her attention to detail, and her husband Barry, have been put to good use, as she settles into a tough job working for me! She is doing great.
Luke Euripides is the newest member of our team. He joined Ribs Within for the 2015 KCBS BBQ Season and has proven his value from day one. His unique MacGyver approach, tremendous stick work, and that he likes to stay up on the night shift, have cemented his role on our team. His positive attitude and knowledge of food has also made him a great salesman of Rib Within Rubs. So if you see him, ask him for a sample!
Toney Foster is the support coordinator of the team. An international addition, Toney brings the Jamaican flavor and resourcefulness to the team. From prep, wood chopping, or clean up, he is the one keeping us one step ahead.
Jonathan Knopf for the past 7 years, was our assistant Pitmaster. He has recently moved to Colorado. He is a true Texan. Born in Dallas, TX where good barbeque is a matter of fact. His first barbeque experience was when he was two years old at Red Bryan's, a BBQ institution in Oak Cliff. He's had a taste for it ever since. His travels have taken him through states deeply rooted with unique barbeque traditions…from Texas to Louisiana…to South Carolina and North Carolina and now New Jersey. Jonathan has been a key contributor to the Ribs Within Team since 2006. His organized nature and drive for perfection are a key component in our strive for consistently excellent performance.
We are proudly Sponsored by Yale Appliance in Boston, MA www.yaleappliance.com
Springer Mountain Farms Chicken www.springermountainfarms.com
Grub Hut BBQ and Mexican Food, Manville, NJ www.grubhutbbq.com
Ceramic Grillworks www.ceramicgrillworks.com
Please support these sponsors, if you can!