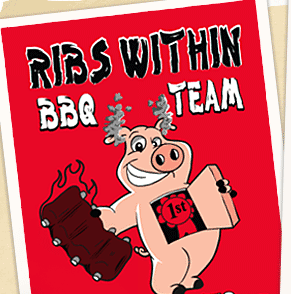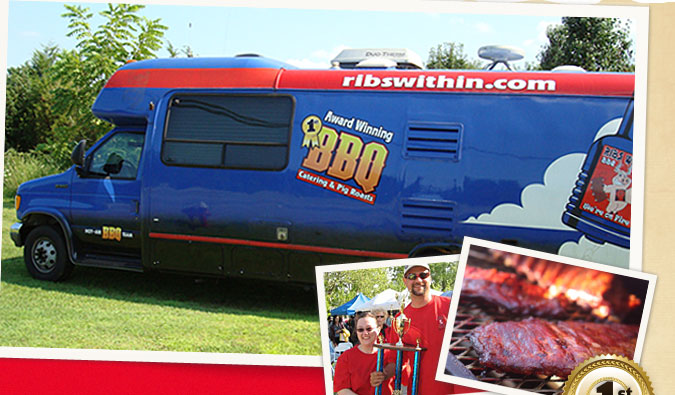 Hot Fun in The Summertime…Michigan to Wildwood, NJ
After a slow start to the 2013 season, Ribs Within is rockin' once again. With 3 top 5 in the last 3 contests, including a Reserve Grand Champ, we are heating up with the weather.
For a contest on the first weekend of Summer, I drove Tuesday 6/18 from NJ to Auburn Hills, MI. My friend and co-worker Clint shared with the driving. Our boss came along for the ride. On Wed, I did a catering job for 175 people for Clint's father's company, Accurate Gauge. Thursday I worked my day job in Lake Orion, and cooked dinner for 25 people at the owner of my company's house. Friday I setup for a contest in Auburn Hills, MI. I cooked the comp solo, no teammates, except for Clint and his awesome wife Cheryl doing my boxes…I took 2nd in Chicken, 5th Brisket, 4th overall. Pretty good for being by myself. I hung out with Motley Que Crew, had a blast – we will see them again at the Royal!
Next was the NJ State Championship in N Wildwood, NJ 7/12-14. This year we started packing early and were ready to roll early when I reached for a jar of BBQ sauce and thew out my back. That's right, after all the travel and all the cooking, a little jar of sauce hurt me. I went to the chiropractor, and he helped a little but said it would be a difficult weekend. I strapped on some ice and got into the rig and didn't stop for 2.5 hours. We got there and it was drizzling. Within 5 minutes it started to downpour. We had 3.5″ of rain in the next 4 hours. We were stuck in the rig with no food or drink for 4 hours. It finally cleared and didn't rain again all weekend. To get around I used a walking stick like Moses, It was painful but funny at the same time. All Sat and Sunday I was 1/2 hour behind on my cooking, struggling to stay focused. After each turn-in, I was losing steam bigtime. After the brisket, I collapsed for about an hour and tried to regroup. My team got me a ride to the awards because I couldn't walk that far.Well, they certainly made me walk a lot. 3rd place Chicken, 4th Place Ribs, 9th place Pork, 28th place Brisket and Reserve Grand Champion, 2nd overall. It ended up being a great day. Next up is New Paltz, I keep you posted as we try to defend our crown…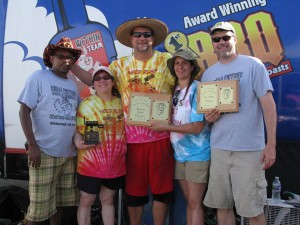 Posted on July 25, 2013 by admin
Categories:
BBQ News