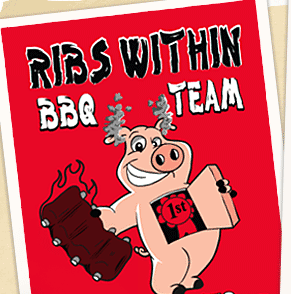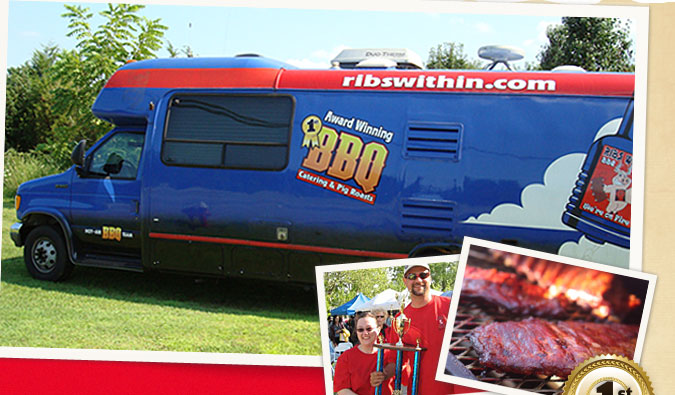 April Showers Bring May…Showers, and some Trophies, too, Part 1
Two weeks after a wet performance in Salisbury, MD in April (36 out of 114, 20th in Brisket), cooking in between periods of no wind and 35-40MPH swirling winds and rain, Ribs Within Took to the road every weekend in May hoping for nicer weather. It didn't happen that way, but here's our recap of Wet and Wild 5 weeks in May.
Bamboozle Festival April 29, 30, May 1 VIP Catering for the Bands, Producers, Promoters, and other VIPs: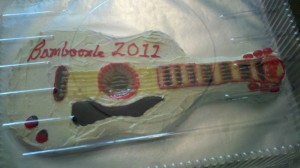 Wow, what fun we had and what cool food we created. Friday we served appetizers for 6 hours. We had standard veggies, dips, hummus, spinach dip, and then we got serious. Ribs Within/Pat LaFrieda blend sliders, BLT cups (Homemade bacon, lettuce, tomato) with a BBQ Special Sauce, Bacon chicken skewers (using homemade bacon paste), and finally our own creation, Pork Belly Shooters – smoked pork belly, braised in a mango/tequila sauce, in a shot glass. For dessert we offered sliced fruit, fruit cobbler, and chocolate dipped marshmallows. People we served included, Gaslight Anthem, Bruno Mars, Boys to Men's management, Harvey Leeds - manager of Marky Ramone, and Johnny Cupakes, of T-shirt fame.
    Saturday was the longest day. We served food from 1PM until 2AM. Brisket, pulled pork, pulled chicken, mac and cheese, BBQ tofu turine, more PLF sliders, homemade cole slaw, and at the end of the night, a whole pig. Many bands and VIPs "pigged out" on our tasty BBQ, including Legendary promoter Ron Delsner, Kevin Jonas, and my personal highlight Marky Ramone, who gave me a bottle of his Marky Ramone Marinara Sauce for a bottle of my BBQ Rub. Late night highlights included a couple of guests who ate a piece of every part of the pig, with the brain being the only bad part of the pig. Desserts included peanut butter pie, homemade chocolate truffles, fuit cobbler, and a homemade Bamboozle Guitar cake.
    Sunday was Ribs and RibEye day from noon until midnight, as we served applewood slow smoked babyback ribs, and our thin sliced bbq rubbed ribeye steaks, as well as the same bbq and sides as Saturday. Guests included Dee Snyder (Twisted Sister), Isane Clown Posse, and Little Wayne's band and posse. After it was over, we realized we served over 600 people, some as many as 10 times, and everyone enjoyed themselves greatly. Can't wait until next year.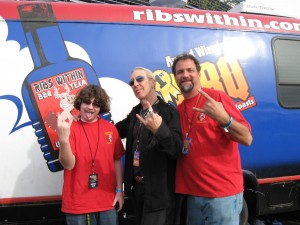 Boston May 6,7 Yale Appliance Demo. We rolled into Boston on Friday with beautiful weather, ready to demo outside on Capital Grills and Weber Grills. One hours into the demo the skies got black and the wind and rains came as we scampered to cook inside on a Wolf indoor grill. Sunday (Mothers Day) was more rain and cold, and more demos inside. But we sold lots of RUB and then we headed back home to New Jersey.
Posted on June 6, 2011 by admin
Categories:
BBQ News