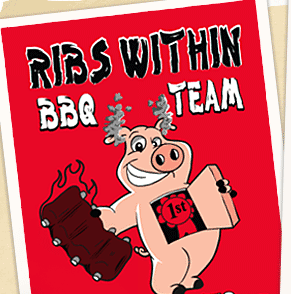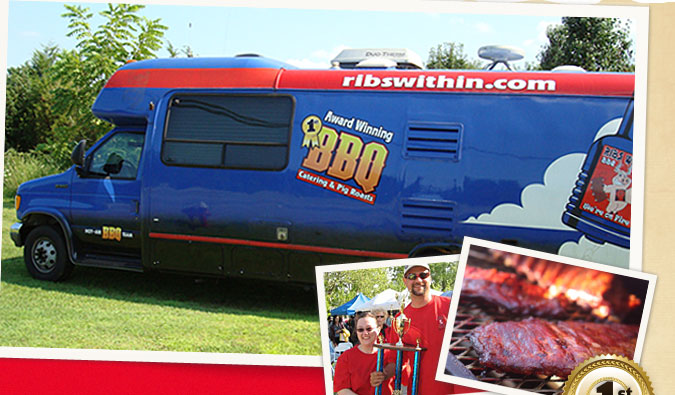 Ribs Within Wins "Grillin' On the Bay" – Brooklyn, NY 3-26-11
Ribs Within, representing Hillsborough New Jersey, won the only sanctioned NYC Grilling/BBQ event (New England BBQ Society – NEBS), "Grillin' On The Bay" in Brooklyn this past Saturday 3/26/11. This was a good thing because the day before (Friday) was the worst day in a long time. First the sewer line backed up into our house, 4 hours of plumber later solved the problem for the moment. Second I had the juices of 2  briskets spill in my truck on the door and on the floor. And third, just when I thought it could not get worse, the gate lift on my rig stopped working AFTER I loaded all my gear 3 grills, coolers, tables, etc. I then had to take everything out of the Rig and put whatever I could into my pickup truck, the one that smelled like brisket - in the cold and dark night. Finally we were ready to go to bed, at midnight, having to get up in 4 and 1/2 hours.
With focus and determination, my wife Laura and I braved the humbling 25 degrees – she spent a lot of time indoors working on presentation boxes – and masterfully exceuted the plans we had made in practice the week before. We put aside our frustration of the night before, and just went for it. Each product from each of the 4 categories, beef, chicken, ribs and Chef's Choice came out close if not better than the practice run.
Because of that, there was none of the usual bickering or yelling – OK, I am usually the one doing the bickering and yelling, but hey it is my team…Things went smoothly, the beef tenderloin was perfectly cooked and wonderfully seasoned. The chicken lollipops worked like a champ, and the ribs were our best ever. Our chef's choice, Dougie-Aki Salmon was not as good as usual because the fish was wild caught and a little fishy, but still pretty good.
After the last turn-in, I took a deep breath, and really thought that our food was tasty and well executed, and we had a real shot at winning the championship. But first clean up time. Bitter cold and no help made it much more difficult than usual, although somehow we finished. But there were many computer problems with the scoring and we waited an extra 1.5 hours for the scores.
Then finally the results… 2nd place Beef, Ribs Within  – trophy and a check in the first category of the year. Then 4th place in Chicken and another trophy. Then came Ribs, a category that has vexed us for all of our 8 years competing. They called 10, 9, 8, 7, 6, 5, 4, 3, 2, and finally #1 Ribs Within. I wa stunned and so happy. I think we finally got it right. Then 6th place Chef's choice, and I new we were in the running for Grand Champion. I all comes down to points.
They announced the overall top ten teams in reverse order. Once again the ticked of 10 through 4, with those teams not having a shot. Then came third and it wasn't us. Then Reserve Champion, not us again, and we knew it had to be us. And Finally, after 2 very hectic days, it was us. Ribs Within had taken home its 4th Grilling Grand Championship, but first since Aug 2009.
It was a great feeling and a great time. It is still a little surreal, but I'll take it any day.
I am posting some links to blogs about the event. Please check them out…
http://www.sheepsheadbites.com/2011/03/live-blog-grillin-on-the-bay-2011/
Josh Bousel's excellent pictures  http://www.flickr.com/photos/joshbousel/5563078944/in/set-72157626360485326/
http://newyork.seriouseats.com/2011/03/grillin-on-the-bay-in-brooklyn-where-barbecue.html
More posts will follow as we crank up the heat on the 2011 BBQ season. Follow us all year right here at www.ribswithin.com
Happy Smokin'
Doug
Posted on March 28, 2011 by admin
Categories:
BBQ News